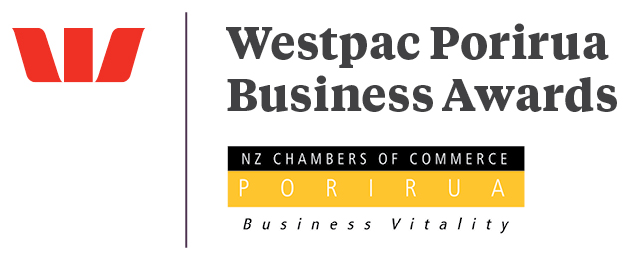 ENTRIES NOW CLOSED - FINALISTS TO BE ANNOUNCED 25 OCTOBER
It's the Westpac Business Awards Season!
Awards entries open date: 10th July 2017
Entries close date: 25th August 2017
Awards night: Friday 17th November 2017 - reserve the date in your diary today.
To be held at Te Rauparaha Arena, Porirua
Entry Form:
The Entry Form is aimed at giving the judges a snapshot of your business with a particular focus on the previous 12 months. So simply click and complete the form and you are entered. It couldn't be easier.

The rest is up to our judges!
If you have clients that should be entering the Awards then we need to hear from you. This is a city wide experience – open to all Porirua Chamber members. If you have friends who are doing spectacular things in business we also need to hear. If you are proud of your achievements or can see the benefit of feedback from experienced business judges then this is the event for you.
What category should I enter? This year you can nominate your category, or let the judges pick for you. Please beware that the judges may also reassign entries if they think you should be considered in an alternative category. They will discuss this with you. We will notify you of your category at an awards launch event.
Categories are:
Sole Trader Small Enterprise (less than 5 staff)
Medium Enterprise (6 to 20 staff)
Large Enterprise (21 plus staff)
Contribution to the Community (NFP)
Young Employee of the year (further information on how to enter this category when you select below)
Innovation
Environmental Sustainability
Brand Development & Awareness
Costs: Entry is free for all members, but you will need to buy tickets to attend the Awards night.
Ticket price $100 plus GST
Entering is EASY!
Complete the form below, including 250 words or less telling us your business story, about your last 12 months of business, and your business aspirations. To make this easy we suggest you complete in word then copy and paste into the box below.
If you have a particular category you are interested in please let us know. The judges will take this into consideration.
Why enter?
" Since the awards we found a new confidence in business to help us grow, not just in ourselves but for prospective clients to have confidence in us. It boosted staff morale to a new level and we soon became an employer of choice … all as a result of winning the awards.
Our business has gone forward in leaps in bounds and continues to grows."
Serena Fiso - Connect Global